I have mentioned it before, but thought it was worth another mention. If you have a USB drive, it might be worth your time to check out
Portable Apps
. Similar to
U3 software
.
From the portable apps website:
What is a portable app?
portable - carried or moved with ease
app - a computer program like a web browser or word processor
A portable app is a computer program that you can carry around with you on a portable device and use on any Windows computer. When your USB flash drive, portable hard drive, iPod or other portable device is plugged in, you have access to your software and personal data just as you would on your own PC. And when you unplug the device, none of your personal data is left behind.

No Special Hardware - Use any USB flash drive, portable hard drive, iPod/MP3 player, etc

No Additional Software - Just download the portable app, extract it and go

No Kidding - It's that easy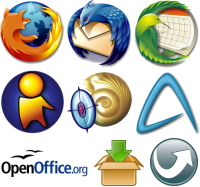 There are a number of Portable Apps that are free. You might want to start with the
Portable Apps Suite
.
You might also want to check out
Snapfiles
and the
Opera USB browser
(I have used the portable version of Mozilla Firefox, have not tried Opera's USB browser yet).