Per the e-mail I received a couple of days ago, it looks like the marketing campaign is beginning to kickoff for some of the LIVE products.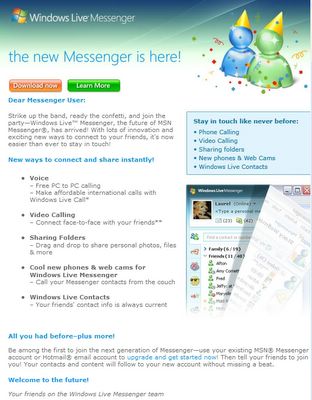 Windows Live products listed as released 6/30/2006:
Windows Live Messenger
Windows Live OneCare
Windows Live Custom Domains
Even MSN Spaces is planning on going "Live" next month.





MSN® Spaces is becoming Windows Live™ Spaces in July 2006! For users of MSN Spaces, don't worry—all of your personal content will remain the same, including your blogs, photos, lists, and profile information. Along with all your current activities and features, Windows Live Spaces users will enjoy friends of friends social networking, new modules (such as weather, stock quotes, horoscope and more), as well as alerts where you'll always be in-the-know when friends update their content.