I could be wrong, but I am not so sure that the crowd looking to buy a
Jeep Commander
will like the looks of the
Liberty Renegade
's riveted fender flares on this bigger package. Don't get me wrong, I think the rivets work well for the niche that the Jeep Liberty Renegade fills, but a bit out of place on the $40,000+ Commander I saw.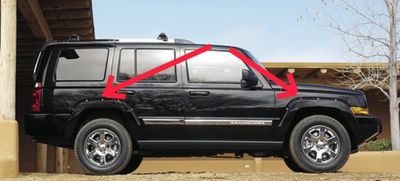 I think a cleaner flare without the rivets would be more appropriate. One can tell that Jeep is trying to incorporate some rugged/masculine design cues from their own line as well as the likes of
Hummer
and
Land Rover
. I noticed a navy blue Commander on our Jeep dealers lot today. I took a peak and the leather clad interior looked nice enough, along with the sunroof and sunroof portals over the second row seating. I would not be embarrassed to be caught in one.
Of course, like most SUVs out there, the gas mileage ratings make it a little less attractive.