After working nearly 20 years for the same state government agency, I am now working for another. This came about as a result of the state's IT Consolidation. Today was my first day of working for the Information Technology Service Division within the Office of Administration, so it is not only a new era for IT in the state, it is a new era in my career.
A kickoff event was held this morning at the
Miller Performing Arts Center
.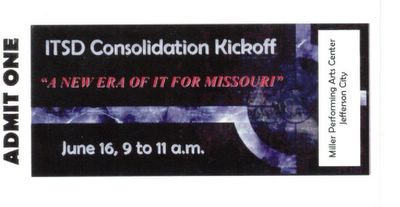 As of today the only noticeable difference is a new badge with the Tinker Toy like design. Hopefully my next paycheck will be issued by the agency we now fall under.
Pretty much everything else is the same. Same phone number, same e-mail address (this is suppose to change at some point), same group, report to the same person. We'll see how things go from this point forward.